For nature and outdoor scenery wallpapers for PDA or mobile phone
Visit http://caribbean.wap.com
accesible via PDA & Cell only
Despite the rejuvenation of body and mind that outdoor recreational activities provide, occasionally an individual simply wants to drive to an area and view something different. At other times it is enjoyable to combine the outdoor activity with some type of sightseeing at a place of interest. Below therefore are links to various places of interest in Trinidad.

You can also use the search box below to search this site for specific places of interest or activities. When searching, you do not need to include the word "Trinidad" in your search.

Subscribe to our free monthly ezine, Caribbean Outdoor Life, and have concise practical information that you can use in your recreational pursuits, delivered direct to your mailbox.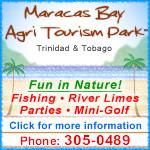 www.maracasbayagritourismpark.com
Grand Fond Road, Maracas Beach